Perhaps you've been taught that you need to rely on solely your training and talent to book work. Or that you need to accept that feast or famine is a part of the 'artist's journey.'
But a journey to what exactly?
✘ Desperation in auditions
✘ Constant feelings of 'I'm not good enough?'
✘ Soul-sucking 'survival' jobs barely paying the rent?
✘ Inconsistent money flow?
✘ Never-ending comparisonitis?
✘ No clarity or vision?
✘ Performing for free to "gain exposure"
If you're like most struggling talented artists, you lie awake at night questioning:
Am I good enough?
What will people think?
Do I really have what it takes to make it?
Is everyone else more prepared and further along in 'The Biz' than I am?
Can I actually support myself or my family doing what I love?
Am I just wasting time?
Who will take a chance on me?
When will my fears, doubts, and insecurities ever go away?
And, worst of all:
Maybe I should stop kidding myself and just grow up and get a 'real' job.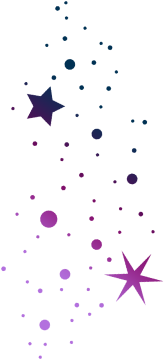 If you're not lit up about your performing career, you must do things differently.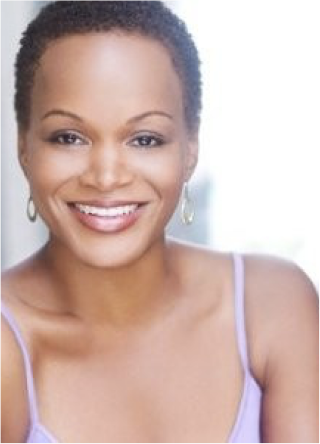 Hi There! I'm Keenah Armitage; creator of The Thriving Artist Method
In 2002, I was a Broadway actress, college professor, and co-director of a nonprofit organization. I was working seven days a week and had a nanny raising my kids.
With a résumé full of Broadway credits and a prestigious position teaching at a nationally ranked musical theatre college, it looked like I had it all. In reality, my health and my bank account were both depleted. My health practitioner told me I had adrenal fatigue and confirmed to me why I felt like I was 'two steps away from death.'
When I was asked what I wanted for myself, I didn't know—I had been putting everyone else first. Despite working all the time, I was still living paycheck-to-paycheck. Only one thing was clear: I was killing myself living like this.
The practitioner told me, 'If you don't become the cause that creates your life, you'll be moved around like a pawn, and you'll be discarded like a pawn.' That moment changed the course of my life, health, career, abundance, and purpose.
I am a mindset and success coach for performing artists and the creator of the Thriving Artist Method. I guide my clients to unlock their magnetic presence, gain clarity, and build brand authority so that they live life on purpose full of joy, abundance, and pleasure while building the career they love… on their terms.
If 2020 taught us anything, it's that life is short. Have you fully considered how much your dreams matter? Are you ready to transform your career from the inside out?
<! --Subconscious Identity-->
<! --Clarity & Vision-->
<! --Brand Equity-->
" When you have tools that increase your magnetic presence, vision, and brand authority as an artist, EVERYTHING can change. Imagine having an all-in-one system that shows you exactly how to identify what you need, what to do, and where to go so that you can level-up your career and lifestyle offstage. That's exactly what I've created for you."
Introducing …
The Thriving Artist Toolkit
This toolkit is a one-of-a-kind system for high-achieving artists who are done with barely surviving and are ready to become a THRIVING working artist!
This step-by-step system will:
✔ ️Get you clear on your desired artist archetype and on the type of performing career you truly want so that you can attract the people & opportunities that are right for YOU
✔ ️Eliminate all the guesswork and unnecessary fears to rock out your next headshot photoshoot
✔ ️Provide beautifully designed templates to write your own easy-to-read, résumés for theatre, film, or TV
✔ ️Teach you how to differentiate between agents, casting directors, and talent managers to work effectively with each and build long-lasting relationships—without any weird neediness or dependency on them to make you successful
✔ ️Learn how to attract opportunities in alignment with who you are and where you're going
What You Get Inside The Thriving Artist Toolkit:
01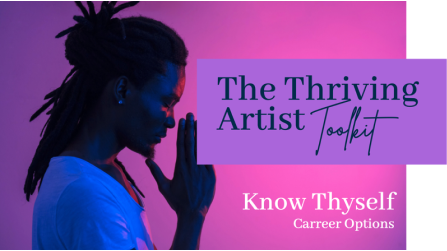 Define Your Calling:
Some performers want it all: television, film, Broadway, and commercials. You can do it all, but you cannot do it all at once. For maximum momentum, you need to focus on one aspect of your career at a time.
This guide helps you to decide where to start. It breaks down ALL the various ways you can be an actor, singer, dancer, and musician. NYC and LA are not the only places to build your performance career, so it includes insights about major global entertainment markets.
02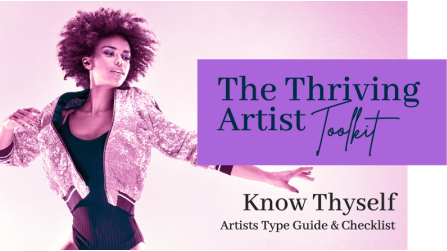 Archetype Guides:
We constantly hear how important it is to know your 'type.' Confidently determining your type allows you to focus your time, money, and energy on your ideal work—the kind that lights you up. Stop the 'random acts of auditioning,' and you'll end unnecessary rejections because you'll no longer go for roles that are wrong for you! No more wasting time on opportunities that don't align with your goals.
This guide will help you figure out, once and for all, what your true archetype is. That knowledge will empower you to go after roles that will catapult your career forward and upward!
03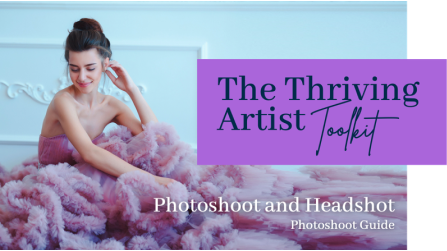 Photoshoot Prep Guide:
Casting directors look at your picture and either:
a) you get an audition! or
b) they move on to the next person.
In this guide, you will learn to prepare mentally, emotionally, and physically for every photoshoot. You will get a storyboard template where you can record poses that are on point for your brand. This kind of prep zaps the vanilla-ness of your photos, so you are atop the shortlist.
04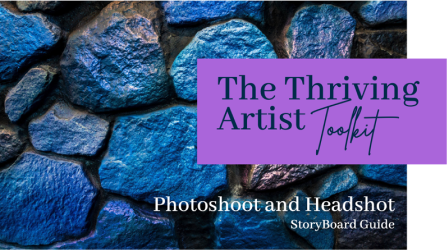 Thriving Artist Headshot Guide:
Your headshots are your calling card—consider them your first audition. One look at your headshot can make or break your chances of really being seen.
This guide will help you keep up with the latest headshot trends with your own personalized photoshoot templates. Learn the ins and outs of creating ON BRAND memorable headshots that get you noticed.
05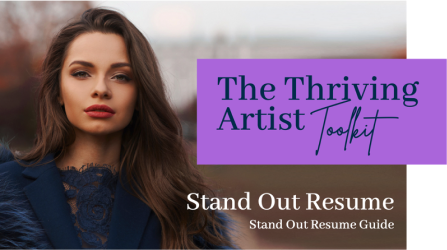 Reel 'Em In Resume Guide & Templates:
Make yourself the obvious choice in a sea of talent with proper résumé etiquette. Avoid presenting yourself as a total newbie, or unprofessional because of an unsightly résumé.
With the Thriving Artist Toolkit, you get GORGEOUSLY designed and customizable all-in-one headshot/résumé templates
Did someone say
BONUSES?
In addition to the Thriving Artist Toolkit, I'm also including:
Bonus 1

Thriving Artist Daily Action Planner

It's easy to become overwhelmed and procrastinate if you aren't clear on your daily goals. Get in the habit of taking the time to write down affirmations, daily rituals, actions, and what you are grateful for. These habits lead to small wins, and small wins will inevitably lead to the BIG WIN! This planner helps you set your daily intentions, achieve your goals, and stay committed.
Bonus 2

Thriving Artist Weekly Breakdown Planner

his planner helps you break down tasks into smaller to-do lists. Use this planner to remember good things that happened the previous week to keep you positive and motivated, regardless of setbacks or disappointments.
Bonus 3

Thriving Artist Monthly Overview

This calendar reminds you to love yourself. Be proud of the baby steps that turn into leaps of growth. Track the goals that you meet and the relationships you make, and celebrate your successes with this powerful tool!
Bonus 4

Thriving Artist Quarterly Goals

You can accomplish SO MUCH in 90 days. Your intentions, habits, and obstacles affect whether or not you make it. How you prepare for and react to these events helps navigate your journey to stardom. Amaze yourself at how much you improve and accomplish in such a short time.
Bonus 5

Thriving Artist Trello Board:

Everything you need is in one place. Customize your boards systematically to fit your personal needs, vision, desires and goals.
The Thriving Artist Toolkit
Career Options Guide

(valued at $67)

Niche & Archetype Guide

(valued at $197)

Photoshoot Guide and Storyboard Template

(valued at $197)

Thriving Artist Headshot Guide

(valued at $97)

Reel 'Em In Résumé Templates

(valued at $297)
Bonus 1: Thriving Artist Daily Action Planner

(valued at $57)

Bonus 2: Thriving Artist Weekly Breakdown Planner

(valued at $97)

Bonus 3: Thriving Artist Monthly Overview

(valued at $47)

Bonus 4: Thriving Artist Quarterly Goals

(valued at $97)

Bonus 5: Thriving Artist Trello Board

(valued at $147)
TOTAL VALUE: $1300
YOUR INVESTMENT IS $297
Frequently Asked Questions
We've been taught that being broke and desperate for bookings is "part of the process." I've been there. When my students were facing these struggles, I realized this issue had not been addressed. I chose to make it affordable to allow you to see what's inside the toolkit and take responsibility for your own narrative, on your terms.
Absolutely! I've done my part in creating the toolkit, but you must do the work for it to work.
Yes! You will receive an email with all of your instant access information as soon as you complete your purchase.
This toolkit was specifically designed for professionals working in the performing arts/entertainment industry who know they desire to play a much bigger game on and offstage.
Please reach out to my team at [email protected]. We're more than happy to help you be confident in your purchase.